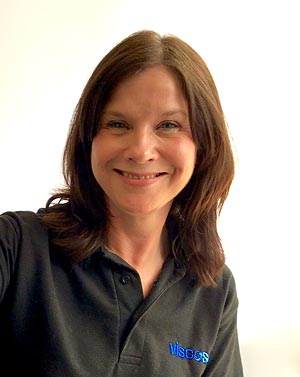 Debbie Rees, coming up to her 25 year Length of Service anniversary at Viscose, a charitable, kind hearted lady who has soldiered through of the scariest obstacles in life takes a moment of her time to talk to us.
Debbie Rees is Capsule Operator at Viscose, operating the machine which makes the entire capsule for products sold into the food and drinks market.
"I make that part of the packaging that people tear off the top of their wine bottle or salad dressing. That's the secondary seal." "The product begins on the printed reel, then depending on the job specification, perforations, and tear tabs are added. The material is then formed into shape. The top foil is then heat sealed onto the product, pushed off the end of the machine, quality checked, and packed into a box. Quality is a top priority for each of us operators."
Like a slick scene from the movie Wallace and Gromit, the noise from the machines whirr in the surrounding workshop of Viscose Closures as products churn though the machines with solid momentum. A glitch is detected, and Debbie is overtaken with calm consistent checking processes which involves changing machine parts, resolving the problem efficiently. The smoothness and eye for detail during this operation is a demonstration of Debbie's top quality of problem solving.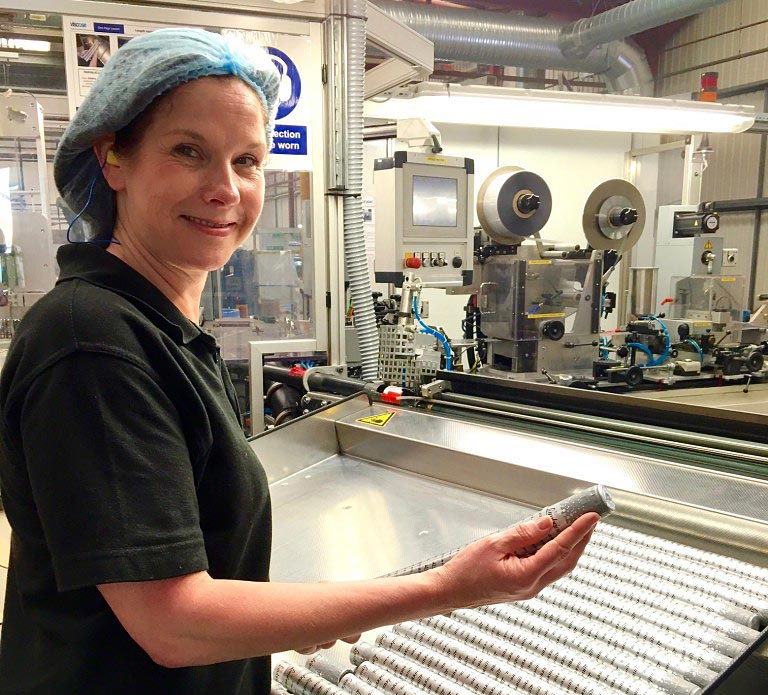 Debbie Rees, Capsule Operator, standing by her machine.
Working in a department with Mike Williams and Ann Caswell, each operating their own machine, the team support each other unwaveringly. "We work well as a team, and during my 25 years here I've worked with some of the most dependable people. When the going gets tough we all pull together. We always joke that we could stop any ship from sinking". Debbie reminisces with a glint of her charismatic smile. Debbie also adds that working at Viscose over the last 25 years has helped her find the people who have brought her through some of the biggest hurdles you could go through in life.
Debbie battled through breast cancer as a younger woman, taking her to a very vulnerable point in her life. She talks about how this made her stronger, now volunteering much of her time with a handful of charitable organisations, including one for people with Schizophrenia. 
"Doing work like this opens your eyes to the world. Many people walk around in their own bubble with blinkers on. Volunteering to spend time with these people changes you for the better."
Her caring and calm persona are a perfect example of this. Debbie has a partner called Steve, two nieces and three nephews and also spends a lot of her time supporting her elderly mother. She also enjoys going to music concerts and live bands, keeping fit, and cooking for a healthy diet.
We ask Debbie what the achievement of 25 years length of service means to her.
"All I keep saying is "Where has the time gone?" I know this is an achievement so I'm really happy."
We also ask Debbie what Viscose means to her.
"I always tell people that Viscose is a company with a longstanding history, and new ideas. This is where we are now."
If you'd like to buy capsules made by Debbie Rees, please view our product line on our website here, or phone 01792796393 with your inquiries to speak to one of our friendly team!
On Twitter? Follow us @viscoseclosures