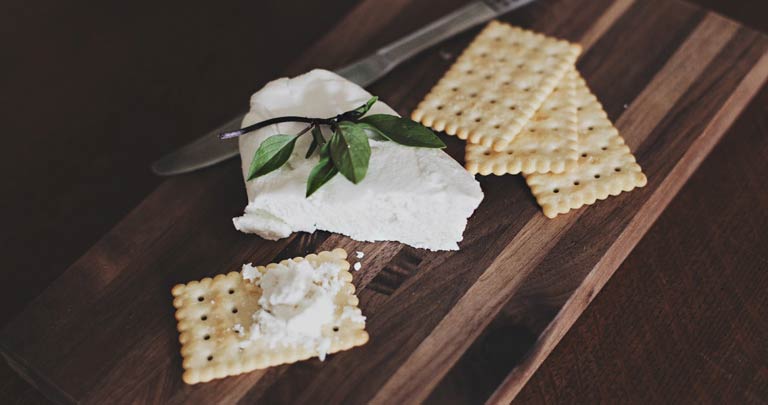 Image credit of Anita Peeples
We in Wales are very proud of cheese. And we have good reason to be, with a vast number of cheeses born and bred in this lovely part of the world. We are the home to Caerphilly cheesemakers 'Caws Cenarth', producers of award winning cheese named Perl Las, savored for it's strong but delicate and creamy flavor, and we are also the exporters of cheese not only to the rest of the UK but across the world to USA, Canada, New Zealand, Japan, South Africa and Australia, Singapore, Thailand and Canada. 'Caws' in Welsh, has a strong hold on the map, and so it welcomes #NationalCheeseDay on the 4th June, which is today!
But what types of cheese are there? Viscose Closures looks at cheese and its packaging
Cheese Triangles
Dairylea triangles are brilliant for lunchboxes. Here is the scene: a lunchbox with Jacobs crackers, Walkers Crisps, a carton of orange juice, Dairylee Triangles, and noisy school friends running around the surrounding classroom. Timeless classics, and nice simply designed packaging also.
Cheese in Plastic
Dairylea spreadable comes in a pot to be enjoyed on toast, crackers, or anything you dream of. There is flat orange cheese, popular on burgers yet with a questionable percentage of real cheese content, and finally we mustn't forget Cathedral City's cheddar, whom is storming the market with a 12% growth in value since last year. Resealable packets and combi-packs give variety and bulk buying options for this strong brand.
Squeezy cheese
Popular in America, this can come in metal tubes, with small little plastic lids, or in plastic pots which look something close to tomato sauce pots! This cheese squeezes out onto crackers like moisturizing balm does onto your skin. It's good on the go, as it is easy to seal, dispense, and keep fresh, extending it's shelf life.
Cheese in pots
Do you prefer your cheese refrigerated or at room temperature? It had pretty much been presumed. Cold. However Fortnum and Mason sell their cheddar in beautiful ceramic pots, now leaving the choice up to you. In the fridge, or on the tabletop next to the butter? It's your decision. At Viscose we were lucky enough to work with Fortnum and Mason to provide seals for their gorgeous ceramic pots. These seals complimented the product beautifully. They make the product tamper evident, yet are almost invisible to the eye and so none intrusive to the carefully developed branding.
Cheese in a shrink wrap and cheese in Wax
There's bendy cheese in form of Cheesestring who's hair you can play with before eating, and then there are the small little Babybells, around since 1977, also timeless as a brand, and now with it's own Facebook page! This brand is clearly showing no signs of aging badly…
Honoring cheese is taken very seriously with celebrations for
#NationalCheeseLoversDay on 20th January
#NationalCheeseFondueDay on April 11th
#NationalGrilledCheese day on April 12th
#BritishCheeseWeek on June 1st – 7th
#NationalCheeseDay on June 4th
So this is Cheese Week, and today is National Cheese Day. Time to run to those shops to get some cheese for your sandwiches!
Consumers have confessed to sometimes eat a whole block in one sitting.
The main question remains. Will our cows keep up?
Sales grew by 2.9% since last year, yet the volume purchased declined by 1.3%, a reflection on consumer behavior which gives relief to some cows.
We at Viscose want to know, what is your favourite cheese? Tweet us @viscoseclosures
Or first, if you'd rather take a look at some mouthwatering packaging designs for cheese, then you can here!
We at Viscose Closures supply combi-packs for cheese, tamper evident bands and capsules for ceramic pots for cheese packaging. We are also the only supplier in the world of 100% biodegradable cellulose bands. Please contact us at sales@viscoseclosures.co.uk for more information, or view our products on our website here.
A little fun fact to leave you with…
Did you know that Cheesestring doesn't have any chemicals or additives in it? It is entirely made of cheese, which has been heated up to 140%. In realigning the milk proteins through this process, the cheese is left stringy!