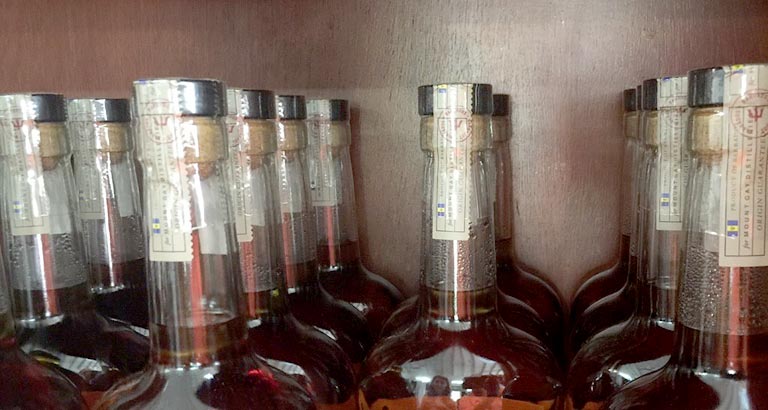 Mintel reports that as consumers become more educated about their alcohol choice they lean towards higher quality drinks. For rum, this sways them towards drinks like Mount Gay, Société du Rhum Barbancourt, Angostura, and Cockspur. As an incredibly complex drink, with a lot of controversy surrounding its popularity, variations, and market share, Viscose are getting into the spirit of the pirates. As summer draws closer, as National #RumMonth approaches in August, and as Friday evening begs us to pull on our dancing shoes, our attention turns to the 7 things you didn't know about Rum!
There isn't just one Rum…
There are many, in fact here is a break down:
Silver/White Rum: Rum that is clear in colour, for example, Bacardi, which is very popular in cocktails, such as, Pina Colada or Mai Tai!
Flavoured Rum: Rum with added flavours from brands such as Captain Morgan Spiced Rum and Malibu. Flavoured rums are particularly popular on party scenes, with growing popularity from the younger consumers, students and young professionals (It's because they are sweet!).
Dark/Aged Rum: Rum that is amber or dark brown in colour. It's worth noting that rum with a dark colour doesn't necessarily mean that it's aged. All it means is that the rum hasn't been filtered to make it clear. This naturally affects the taste and overall outcome of the drink. Dark/Aged rum is mostly enjoyed straight, or otherwise known as 'on the rocks' and popularity for these Rums is on the increase, as consumers are angling toward higher quality premium drinks.
There is truth in the proof…
'Proof' in rum is just the measurement of alcohol in the bottle. If you cut the percentage in half then you get the real amount of alcohol in the bottle.  So an 80% proof drink has 40% alcohol. Simple! And cool, right! This is also applicable to all other spirits by the way…
It's flexible, and people like that…
As a beverage, rum can be used in many different ways, and guess what. Bartenders love this. Check out Angostura's recent 'Global Cocktail Challenge' posted all over their twitter profile.  Rum is an easy mixer for cocktails as it works well with other ingredients whilst still letting its flavour shine through. As a drink which is available in three different varieties (Silver/White, Flavoured and Dark/Aged), there are huge possibilities at bartenders fingertips. This is something marketers are keen to push and an area we would expect to see innovations in!
Polish People like Rum…
Due to Diageo's launch of Captain Morgan's White Rum, Polish rum drinking is on the rise, as consumers steer towards the higher quality alcohol over Vodka's. Poles buying rum grew from 9% to 11% between 2013 and 2014 alone.
It's meant to be sipped…
Rums are most enjoyed when sipped, warm, over ice. That way, the aroma can be absorbed as you drink the spirit, creating a wonderful, full sensory experience. White rum is also popular in cocktails, such as Mojito's or Daiquiri's. Yum!
There is usually a story…
And these stories shouldn't be ignored. In fact, they make life rather interesting.  Mount Gay Rum, for example began producing in 1703, and was called "Kill-Devil" by local Barbadians. Like most rums, it was made popular worldwide by the enterprising ship captains of the 18th century. The saying  "Yo ho ho" and a bottle of rum…! It wasn't just made up for a film, it has real roots in history…!
Rum has a past and a present, and in comparison to other spirits, this adds to their interest. Packaging for rum often emphasises their roots through stories, rightly so, to create an experience for the consumer.  There are many ways to tell stories within packaging. Labels telling encapsulating stories is a popular feature we like here at Viscose, and as we see double sided labels, and Augmented reality for packaging develop rapidly, opportunities are opened out even further. So sit back and pop your specs on as you pick up your next bottle of rum, as there is usually more to it than meets the eye…!
It's just sugar…
At the end of the day, rum is essentially distilled sugarcane by-products. And so, without being a party pooper, we must note that as the population's attention focuses on the amount of sugar we consume, it wouldn't be surprising for this to ripple into the spirits industry. Jamie Oliver may or may not be partial to a tipple of rum and coke, however as the government puts in a call for a 20% tax on sugary drinks, bars may see the effects. Will we see vacant bars in the future, will we see a rise in popularity of evening juice bars, or will we see innovations in the spirits market to curveball around this consumer push? This could be in the form of more stringent dosing techniques, extraordinary rises on prices of rum, labels which clearly outline sugar content, and innovations surrounding the ingredients and distillation techniques themselves. Popularity for white rums has shown a decrease in comparison to other spirits as reported by Mintel, easily explained by this rise in awareness. We can see how other soft drink brands are innovating around sugar awareness here, so it will be interesting to see how alcoholic drink brands tackle the same concern.
Rum, born in Barbados, once the largest producer of sugar canes, drunk by pirates and captains leaning over barrels as they sailed across the Carribean Sea. Now commonly available in 50ml, 330ml, 500ml, 750ml, and 1L bottles, dependent on the brand, this drink belongs to a different world.
But what will be next for Rum… we at Viscose have our finger on the pulse…
Follow us on Twitter, as we follow the stories of rum worldwide!
Viscose are a global supplier of metal caps and closures for all rum products, and are currently a happy producer and global supplier to brands for their existing products. Please contact us to speak further about your rum product.
RumFest 2016 will ignite the atmosphere on October 22nd and 23rd this year, showcasing 400 of the most diverse rums from all across the globe. The event in ILEC Conference Centre in London will feature live music and dance during their carnival hour. If you will be attending we'd love to know, and would be very excited to meet you there!