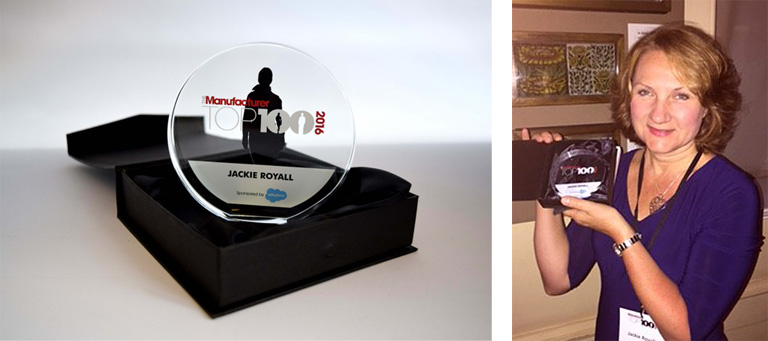 Top Manufacturer in the UK award.
On Tuesday the 1st of November, Jackie Royall CEO of Viscose Closures Ltd received the status of one 'Top Manufacturer in the UK'!
The Top Manufacturer is an award given to 100 individuals. The aim is to provide a platform for the recognition of industry role models. Awards were presented to individuals at an evening event in Birmingham. Held in a prestigious museum and art gallery, the atmosphere was perfect for such an occasion.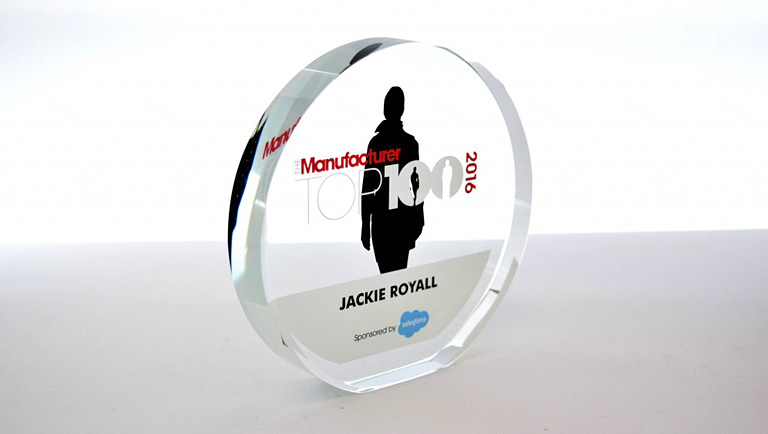 Jackie Royall, CEO of Viscose was very surprised yet modest about receiving her award…
''I am very proud to have received this personal recognition and that of my team at Viscose. It is a privilege to be part of the role models being developed by the top 100 manufacturers to encourage people to work in the manufacturing sector.''
This isn't Jackie's first recognition as an inspiring leader. In 2002 she won the management category and overall winner of the Welsh Woman of the Year for transforming the fortunes of the Llantrisant-based Perkin Elmer plant. Jackie's endless hours working with the team resulted in becoming the Vice President of the company, and also becoming the first woman in Europe to receive the Dale Carnegie Leadership Award, an award given to individuals with outstanding leadership quality. Her approachability and leadership style were factors which resulted in credit for this award, with special mention being given to her methods of adapting the traditional manufacturing organization to the changing demands of the business.
Jackie, who is a Six Sigma black belt and has a Masters in Lean, began her manufacturing career as she meant to go on. Initially she ran manufacturing sites for multinationals and SME's, then in 2005 she set up her own business which focused on the stabilisation and recovery of underperforming organisations, as well as guiding them to profitable growth once the crisis was over. In 2014 Jackie became CEO of Viscose Closures LTD. which brings us to this day in 2016.
"The company has undergone many changes over the last few years, constantly working hard to provide top quality products for their customers, Jackie has very much been at the heart of this. The company will continue to work hard towards our goal and having a fantastic leader on board makes all the difference."
Stephen Armstrong, Production Manager of Viscose.
Viscose witness Jackie's top leadership qualities on a day by day basis and as a team are extremely proud of her. With an award like this it is most definitely a time to reflect on career achievements, and in Jackie's case, it is certainly a time to celebrate.
Situated in the Welsh town of Swansea, Viscose Closures LTD are a UK based manufacturer selling Caps & Closures, Shrink Sleeves, Viskrings, Ion Exchange Cellulose Media, Capsules, Wirehoods, Polystoppers, Corks as primary packaging and tamper evidence solutions. Please contact us with your inquiries on +44 (0) 1792 796 393 or sales@viscose.co.uk.
On Twitter? Follow us @viscoseclosures.
You can read more about the Top 100 awards here, sponsored by Salesforce!
Follow TM Top 100 on Twitter:
#TMTop100
Top Manufacturers Award logo. Logo Copyright of Top Manufactures UK
Save
Save