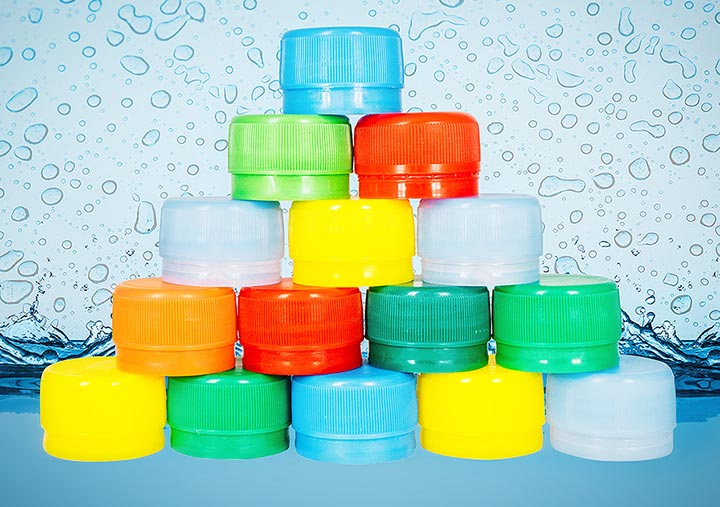 PET and HDPE are very commonly used as packaging raw materials. PET is also known as PETE or Polyester.
PET stands for Polyethylene Terephthalate and is mostly used for the manufacturing of plastic beverage bottles. PET is a very clear plastic and can look like glass once set to its desired shape. PET can also be coloured matched to any colour. PET is, lightweight and tough against gases and liquids.
PET is also highly resistant to diluted acids, oils and alcohols. PET has a lower temperature resistance than HDPE. PET containers can handle cold temperatures of about -40°F.
High-density polyethylene (HDPE) or polyethylene high-density (PEHD) plastic is known for its durability and strength. While not as clear as PET plastic, HDPE caps, bottles, containers can be translucent so you can to see your product inside the bottle. This type of plastic can also be colour matched. HDPE bottles are able to withstand low temperatures very well (-110° F) and higher temperatures moderately well near 167°F. HDPE is is very stiff, has a good temperature resistance and a very good water vapour barrier.
The most important reason why PET is not used as a closure material is that using PET on PET will not provide an adequate seal for threaded closures. In the past, two piece closures were used for CSD drinks (some two piece closures are still in use today). In the two-piece closure system, the liner ensures the cap makes a tight fit to the PET bottle neck, providing a tight seal. Today, this is achieved with a single piece HDPE organoleptic closure. Also, PET gains strength when it is stretched during the blowing operation. This second operation cannot be achieved in the process of closure moulding which is performed as a single operation.
Advantages and disadvantages
---
| MATERIAL PROPERTIES | HDPE | PET |
| --- | --- | --- |
| RIGIDITITY | Good | Very Good |
| MOISTURE BARRIER | Good | Good |
| GAS BARRIER | Poor | Good |
| CLARITY | Semi Opaque – Fair | Clear – Excellent |
| COLD RESISTANCE | -110°F – Very Good | -40°F – Good |
| HEAT RESISTANCE | 167°F – Very Good | 131°F – Good |
| ALCOHOL RESISTANCE | Good | Very Good |