Saturday 27th May was a significant date in the diary for Jackie Royall, CEO of tamper evidence company Viscose Closures. Starting at 11pm a 100KM cycle for the event CAF Women V Cancer: Ride the Night would take her from Windsor, through Westminster Abbey, Trafalgar Square, Buckingham Palace and back.
The event raised funds for woman's cancer charities: Breast Cancer Care, Jo's Cervical Cancer Trust, and Ovarian Cancer Action. Joined in union with over 3,000 women, £1.25 million was raised before the ladies had passed the start line. Mrs Royall, CEO of Viscose strongly supports raising vital funds, and offers the following advice to women considering the cycle next year:
''I'd absolutely recommend other women to do events like this. It's really not as hard as you think it would be, and to know the impact of the funds raised, makes you dig deep in the early hours of the morning.''
The event is now global, with future events in Paris, and also India; India's event begins at The Taj Mahal, and entwines through Rajasthan to Jaipur. As Jackie says "Now that is what we would call 'stamping out Cancer!'". As CEO of a bustling business such as Viscose, Jackie prides herself in having a focus on the important things.
Viscose Closures take many opportunities to raise money for charities and try to help the local communities as much as we can! In 2016 alone the company raised over £3,000 combined for Cancer Research UK, Dementia Care, and Macmillan Cancer Support.
This years delights include a Hawaiian FootGolf day raising money for Ty Olwen, as well as energetic preparations for Maggies Walk for Cancer on 2nd September 2017!
The ladies at the start line in Windsor, UK, just about to cycle 100KM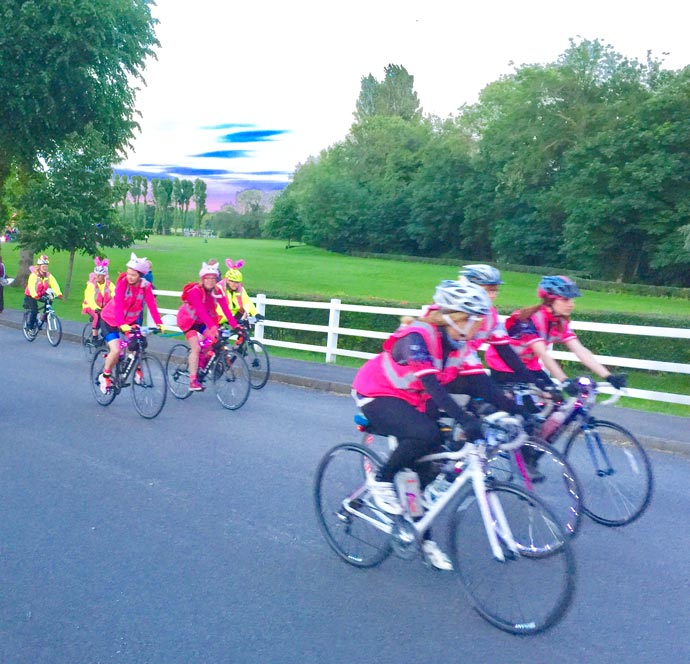 The early morning wave of cyclists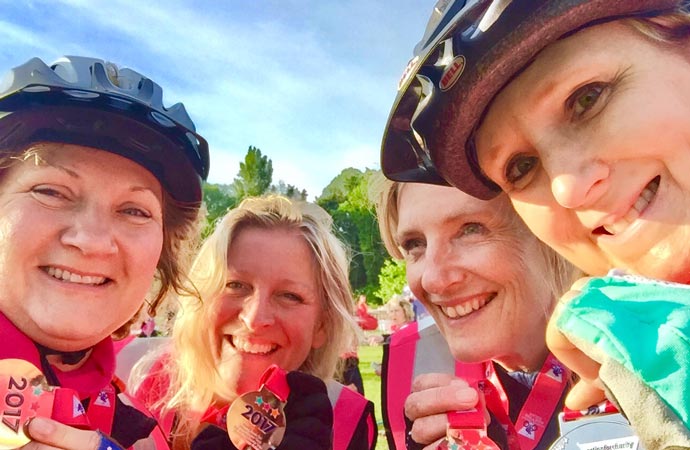 Jackie Royall (left) and her teammates, awarded medals for cycling 100KM for Women's Cancer!
Viscose Closures is a tamper evidence manufacturer based in Wales, UK. For more information on our product range please see here. Please phone +44 (0) 1792 796 393 with your product enquiries!
On Twitter? Follow us @viscoseclosures
Save