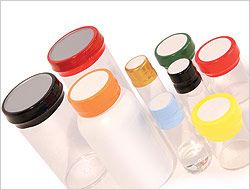 We call them viskrings and in the USA they call them celon bands
Viscose is over 100 years old and is the the world's only producer of cellulose based bio-degradable 'self shrinking secondary seals'. These self shrinking seals are applied wet and shrink as they dry. They give a very high quality appearance and act as a counterfeit proof seal.
Particularly useful for heat sensitive products, no application machinery needed, apply the seals by hand.  No heat needed to shrink.  Takes anywhere from up to 60 minutes to dry, depending on the atmosphere and humidity of the environment.
Cellulose – self shrinking seals are suitable for most types of applications from glass jars, glass bottles, plastic containers, gas cylinders and many more.
Sold around the world to, New Zealand, USA, Indonesia, Africa and to many market sectors, pharmaceutical, cosmetic, food, drink and gas.
Available in many colours plain or printed with your logo and wording
Buy on line www.ecapsdirect.com
Or contact the sales team to find out more 01792 796393 or email http://www.viscoseclosures.com/contact-us/