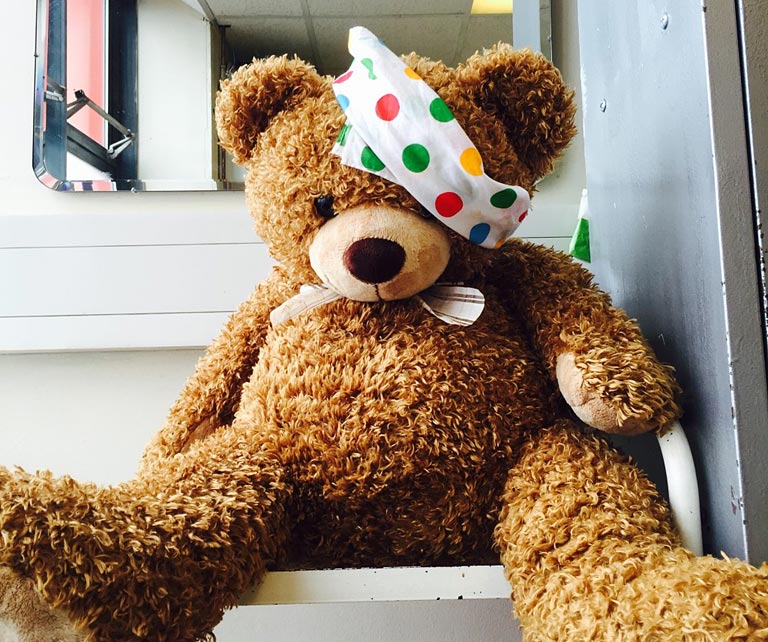 Bubbles the bear sat patiently…
he waited and wondered when his friends would all arrive…
was it time yet?
He was under strict instructions to save Pudsey a honey sandwich. Benjy, Paul, Tod, Talllulah, and Daisy his teddy friends got there, all with stories from afar. Ok, so now it was time to make sure the Viscose team were all set. A quick phone call to Vince on production floor and Sarah upstairs organised that side of things. 
On Friday 13th of November staff at Viscose had a Teddy Bears Picnic all in aid of the wonderful cause Children in Need. Cupcakes, sausage rolls, bolognese, salad, and hummus, decorated the table as delightful treats for the team to enjoy. An absolutely fabulous crafted Pudsey Bear cake made by Viscose's own Eileen made the centrepiece of the table.
Games included a raffle; guess how many spots on Paddy the bears headscarf; and guess how many sweets in the jar. Staff winners were; Lucy who won the prize for guessing how many sweets were in the jar; Cheryl who won the prize for guessing how many spots were on the headscarf; and Scott who won the top prize for the raffle, taking home the beautiful Pudsey cake to share with his family. Everybody had a lovely time, and it was a yet another brilliant opportunity for staff at Viscose Closures to have lunch together. "To be united over such a wonderful cause is just so meaningful". Said Lucy at the lunch.
Staff got silly, and had some posed photographs with their favourite teddy bears. Overall over £200 was raised for @BBCCiN #CiN Children in Need, a fantastic effort!
At the end of the day Bubbles sighed. He was so full up that he couldn't move, and was tired from calling the names out in the raffle. He whistled to his friends Benjy, Paul, Tod, Tallulah, and Daisy and after a quick scan to check everything was all in order at Viscose Closures Headquarters he thought: where next? Off to the BBC to give Pudsey his honey sandwich? Yes that'll do. A quick call to Pudsey and they were off.
An extra huge well done to the Viscose team for raising money for such a good cause, and happy Children in Need! Check out more photos on Viscose Closures charity Pinterest board here.
Viscose Closures manufacturers and distributors of high-quality sports caps, flat plastic caps for water bottles, metal ROPP's preforms, shrink sleeves, combi-packs, Viskrings, and ground cellulose. See here for more information. Please don't hesitate to contact us on 01792 796393 or sales@viscose.co.uk to with any further queries.