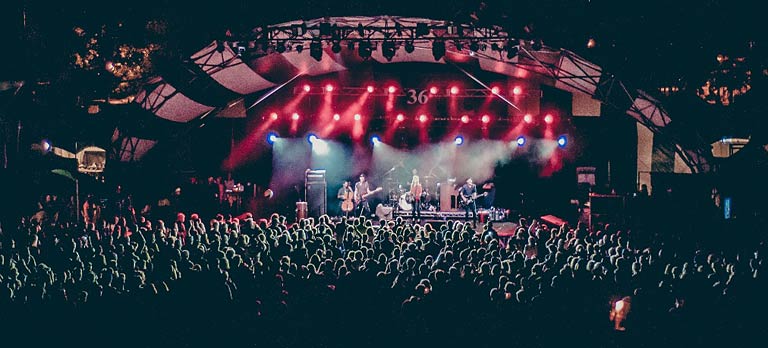 Image credit of Redd Angelo
Festivals, bottle tops, and wine bottle coolers, what do summer festivals mean for the packaging design world?
We are just over the horizon of Glastonbury, the world's largest greenfield festival, but with all of the summer festivities over, what have we got to learn for next year?
As we slide our sunglasses up over our hair, we at Viscose would like to take a look at what the trends, forecasts and highlights, focussing on the top three.
1. Brands – Red Bull, Lucozade, and Carlsberg sponsor major festivals. It's a fabulous opportunity for brands to get their names into consumers minds, dreams, and memories, in the perfect surrounding of music, drinks, friends, and a picturesque setting. This is a major opportunity for food and drinks brands!
2. Hybrid Festivals – It's not just about music any more, as we see interests and passions walk their way into the festival market. Yoga, hotdog, cupcakes, and of particular interest; the Great Peak Weekender in Derbyshire (July 3 -5), a festival with craft beer at the centre, are several nice examples. It's lovely to see the craft beer market ever growing!
3. Technology – Social media and wearables are the 'new things', and they are having a massive impact on the festival market. 56% of festival goers upload photo's of themselves at an event, that's almost self-publicizing! Smart card users are likely to spend 40% more than those spending cash, and wearable technology is now replacing the ticket sales process, embraced fully in Berlins' 'Wear It' festival, and being rolled out in festivals all over America. These rapid developments will highly likely effect the sales process of drinks and food in these participating festivals. Could we also see the packaging itself evolve as technology and social media develops?
3.5 billion people attend UK music festivals alone each year, and so festivals hold big opportunities to sell items, and even bigger opportunities for innovation.
For the big brands selling products, accessibility to the venue and distribution methods need to be considered. Festivals only last for several days or a week, unlike shop set ups. Staff need to be employed to sell the drinks, or otherwise user-friendly dispensers need to be installed to dispense food and drinks products. Materials for packaging design need to be appropriate for festivals, taking into account the number of flip-flops worn, and how easy things can break. The ideal compromise would be to use materials which are not breakable, yet also those which still elude quality, fun, and spirit.
Each and every festival goer will have to run through the thought process of "what do I bring, how much of it, and how will I carry it there, Is it easy to open?" Beer and cider, boxed wine (yes really) and spirits are popular drinks for festivals, however we must ask ourselves, is this because they are cheap and easy to carry? And if so, is there the possibility to provide a wider variety of drinks, with the same practical benefits of costing little and being light/easy to carry/ easy to open? Whatever happens on the weekend, not many people really want to carry several crates of beer across a field to their tent. It is said that festival-goers like freedom, 'unmade-ness', dirt, and baked beans, and so innovations in packaging would need to reflect (perhaps without the beans) this fun loving sporadic nature.
We supply high quality bottle tops, such as ROPP's, flat and sports plastic caps, beer crowns along with shrink sleeves to help with your branding for any festival packaging needs. If you have a question surrounding this please contact us on sales@viscose.co.uk or directly on 01792 796 393.
Check out our board of Pinterest where we have collated all sorts of festival packaging
Tweet us @Viscoseclosures, we would love to hear your comments.