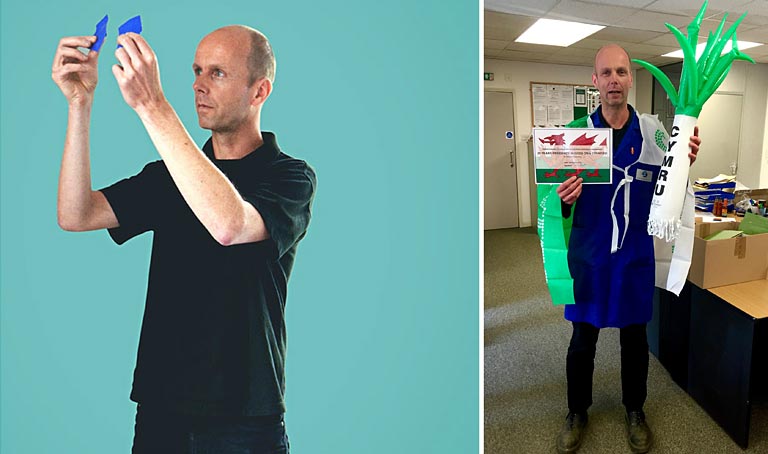 Rob Rodenburg, our HSEQ (Health, Safety and Environmental) Manager celebrated 20 years residency in Wales last Friday 18th March. Originally from Raalte in the Netherlands, Rob now lives locally in Swansea. We asked Rob how it has been for him…    
So, you have been living in Wales for 20 years?
Yes, on 18th March 1996 I came down to Wales on the bus from London Victoria Bus Station. I was coming to Swansea University. Having undertaken my course in the Netherlands, I was able to chose an overseas location to carry out the project part of my course. I wanted to experience another culture and explore and see a different part of the world. The university project I did before was in Miami.
On a bus, traveling to Swansea, take us back there, were you alone?
No, I was with two Dutch girls also from my course. A lecturer from the University picked us up and gave us a tour of Swansea and then dropped us at our new home in Sketty.
With fresh eyes on Swansea, do you have any key memories that remain from that day?
Port Talbot. I remember coming past it on our journey, and can't say I had fond views associated with it. It stank of H2S (Sulphur), essentially stink bombs.
Any more memories?
On our first night, after being dropped off by our lecturer from university I remember we had chips and curry from the local chip shop and Indian shop in Sketty. These shops are still there now, although the 'Bush' pub we went to for our first night is not there now. The Bush pub was a great place!
And the course you were studying… What was it called?
Chemical Engineering MSC.
So take us from that first day to now…
The project was 6 months long, by that point I had a lot of  university friends here, and a bike. I'd got to know the area and liked it. The ultimate decider was the night I met the mother of my two gorgeous girls at a club called Richies and Icon.
This sounds lovely, what happened next?
I had to travel back to the Netherlands at the end of the 6 months, however as I'd liked Swansea so much. I inquired about another course in Swansea once I'd arrived back, and moved back over here shortly. After the course, my first job was with Nipper Laboratories near Llantrisant as a Process Engineer. Next I worked at a big Japanese company called Seki Sui in Merthyr Tydfil, initially as a Process Engineer, progressing to a HSE Officer and Quality Engineer. My third job was at Viscose, where I have now worked for almost 13 years. My first day was 1st June 2003, I remember it being a very warm sunny day!
So, 20 years in Wales, do you feel Welsh?
I'm still a true Dutch Man at heart, yet I do like Wales a lot, which is why I'm here! I support all elements of Welsh culture.
Tell us, what are your 5 favorite things about Wales?
The people are very open, friendly and helpful.
You can get nice curries.
There's a lovely social life here, with less rushing than bigger cities.
The scenery is beautiful with plenty of hills. It's very easy to find serenity in nature, you don't have to go far to be surrounded by nature and a lot of wildlife. This is a lovely feeling.
Swansea is lovely, as it's central, and also by the sea.
Ok so this is 5 already, but keep going…!
Well the last and final thing is that the beer is great. Say no more.
You mentioned a bike, what are your hobbies?
Cycling is a big hobby of mine. I also like photography, gardening, and a spot of carpentry / DIY. I have built two 'Wendy houses' come 'shed' come 'playhouse' for my girls and a loft conversion. Oh yes, another hobby… I spend a lot of time with my girls who are almost 9. As twins they are double loveliness….
So, as a proud man to now have 20 years residency in Gods Own Country, Wales, do have any more words?
Here's to the next 20!
Rob Rodenburg is our HSEQ Manager at Viscose Closures LTD and part of our warm community. Please see here to contact a member of our team, and see here for more information on our products.
Tweet us @viscoseclosures if you would like to share why you love being Welsh!