On September 2nd 21 staff at tamper evidence company Viscose will be walking for Maggie's Centre Swansea, and they have made headlines with this news!
Maggie's provides free practical, emotional and social support to people with cancer, as well as their family and friends. Maggie's has centres all over the UK and abroad, which are based in the grounds of NHS cancer hospitals.
The walk will start at the Maggies Centre in Swansea, with a route that passes Verdi's ice-cream parlour, situated in the heart of the seaside village of Mumbles. Fresh Italian ice-cream will fuel a walk of solidarity and unity.
The staff of tamper evidence manufacturing company Viscose hope to raise as much as they can for the charity! In 2016 Viscose staff raised over £3000 for charities nationwide and local, and also made the news for their efforts for Cancer Research UK, so going by this then it'd be advised to watch this space!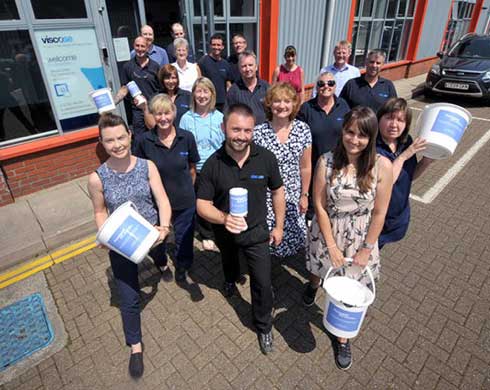 The walkers who will take part in Maggie's walk for cancer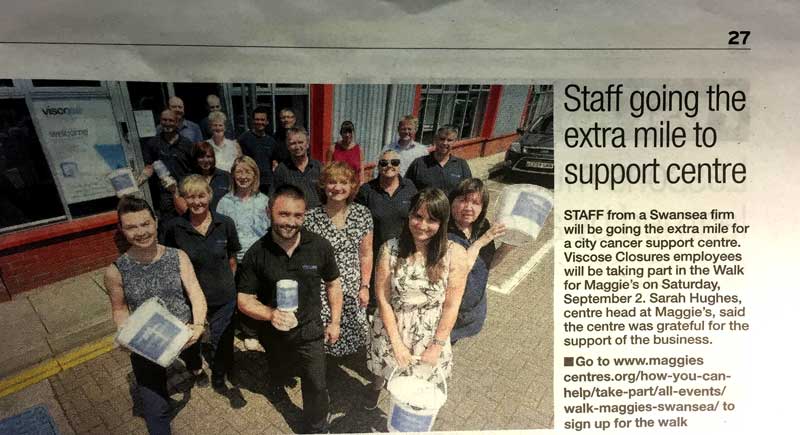 Viscose team members in the Swansea Evening Post on 22/06/17
Viscose Closures produce and supply Closures, Capsules, Shrink Sleeves, Crowns, Wirehoods, Polystoppers, Corks, Biodegradable Sleeves for global food, drinks, pharmaceutical, gas and cosmetics markets. Have a look at our website here for more information.
Please contact our friendly team on 01792 796 393, or email sales@viscoseclosures.com with your product enquiries!
Please see here for the Just Giving page for the staff members taking part.
On Twitter? Follow us @viscoseclosures